The #1 Most Fatal Flaw In the teaching of reading is letting 1 letter stand for multiple sounds. This flaw fails 25 million students every year. It worsens the dyslexia of the 10 million other children that are dyslexic. The little girl above was kept back in third grade because she couldn't reach grade level. The district's plan – written in bold to the left – was to take three years to reach grade level! Can you imagine spending half your educational career not understanding your textbooks? Is it any wonder so many third graders just give up? Just 1 hour twice a week using Rocket Phonics brought her to grade level within just two months.
Lack Of Phonics Held Her Back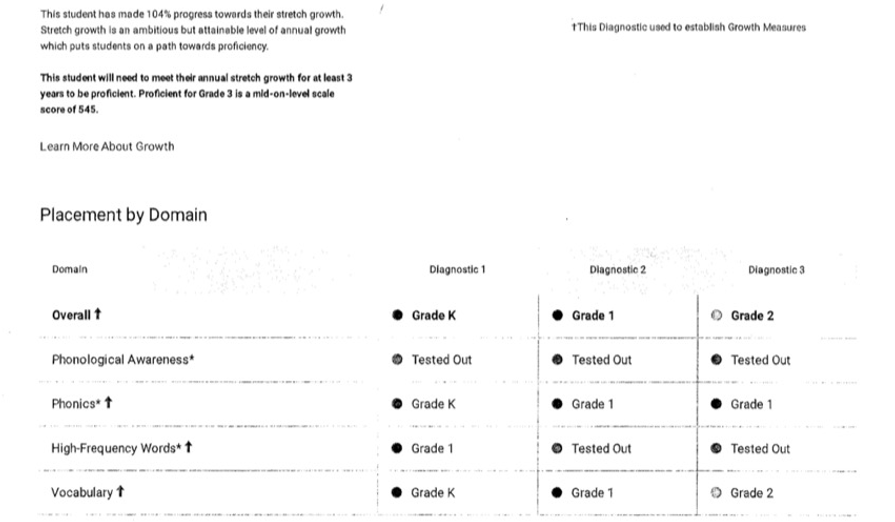 If you enlarge her report above you can see that she had phonological awareness, but her phonics was holding her back. (In her case tested out means at third grade level.) Her phonics was three years below grade level.
In order to compensate her teachers had her memorize high frequency words, and built up her vocabulary. This still left her a year below grade level. Without a phonics system Ruth couldn't sound out new words. This crippled her ability to read alone.
The Teaching of Reading the Rocket Phonics Way
Rocket Phonics creates a two letter group to teach the long vowels and the weird vowels like oy. Once they learn those sounds through games we then color code the letters so the student always knows how to sound out the word. This builds their confidence and allows them to read alone. Reading fun books gives her the vocabulary and the high frequency words without the memorizing.
There are 25 million children like Ruth; don't let your child be one of them. Get Rocket Phonics today.